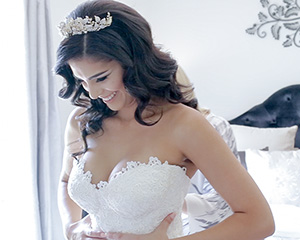 There are several wedding video styles of shooting and editing  footage  that are  used in crafting wedding videos today.  Essentially you can break these styles down to:  the journalistic/documentary style, the cinematic style and the story telling style.
For example;  you can see short cinematic wedding videos with little dialogue to no dialogue that rely on beautiful cinematic sequence shots of the couple during their wedding day backed by music suited to the mood and pace of the footage used.  This often looks like an arty montage of various shots from the day relying on mood creation by piecing together a montage of cinematic shots.
You can also see a documentary styled video of the wedding that is a running record of the proceedings of the day. The footage shown is in chronological order with few cuts in the  footage during the editing. The documentary uses natural audio  and is backed by various music tracks often chosen by the couple. This type of shoot and edit is lengthy and fully covers the ceremony from beginning to end and the full speeches from beginning to end. While this style is long in duration, it tends not to be as engaging as a more extensively crafted cinematic production.
You will also find the story telling style where selected dialogue is found and used in the edit in a condensed form to drive the story of the couple. This dialogue can be from the ceremony vows and will also likely come from selected parts of the reception speeches or from various guests. This is where the audio from the wedding shoot plays a leading role as an element in the wedding video to tell the story in an engaging and natural way.
When the above three styles are combined into a cinematic wedding video  you  get a totally immersive experience where the elements of documentary, cinematic and story telling play against each other to produce a movie like short film of the wedding. Key to producing this combination beyond the visual is carefully recorded dialogue and sound design which includes the use of music and pacing. When all these elements are used together you have something that is truly unforgettable for the couple, their family and friends.
Wedding video styles are an important aspect when deciding on who to use for your own wedding. When choosing a wedding  videographer it would be wise to view their sample work online to see if the work is consistent in the various samples you view and also to see if this is the signature style you are looking for. In practice you can see a mix of these wedding video styles  that gives a good wedding videographer  their own  "signature style"  that they then become known for.
At Monkeybrush Films we use a combination of the above styles: documentary, story telling and cinematic, in all our productions, to produce our  signature cinematic wedding videos and films.  Our samples can be viewed at our wedding video portfolio.