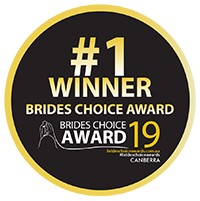 Monkeybrush Films had the honor of being awarded the Brides Choice Awards for Canberra  Videographer for 2019 at the Awards Ceremony held in the Rex Hotel on 3rd September 2019.
Over the years we have done wedding videos for so many amazing couples that we count ourselves lucky to be in this wedding industry. It is a real joy to shoot and edit weddings for these awesome people and their families. Thanks so much to the couples who voted for us for this Brides Choice Award.
Thanks also to our crew who has worked with us over the past few years producing  many great shots to use in the crafting of our wedding films and wedding videos.