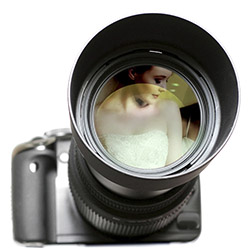 Its been over a decade now that many wedding videographers have upgraded  their craft from standard definition old time camcorders to high defintion and ultra high defintion affordable cinema cameras. 10 years ago wedding videographers didn't have many options to produce anything other than the old time traditional wedding video. Many people still equate "wedding videos"  with this time and older style and quality DVD production. However with the advent of the DSLR camera about 10 years ago with its much larger sensors and higher quality lenses than the old time  video camcorder, wedding videographers can now produce high quality, high resolution footage that rivals anything you can see in the movie theatre. The lenses used on these newer cameras produce that film look that greatly distances them from any camcorder used previously by videographers. In fact, 10 years ago when these comparatively cheap large sensor DSLR  cameras first came out they were used on TV and film productions as the quality and resolution of the footage matched what was being  produced with some very expensive cinema cameras being used in TV and cinema productions. This is when some wedding videographers  changed and became wedding cinematographers.
It wasn't just the change in cameras. The  DSLR and now mirrorless cameras use the same lenses that photographers use for exquisite wedding photography. The DSLR and mirrorless camera matched with these lenses produce footage and shots much like you see in the movie theatre. With this ability,  wedding videographers began considering producing shots and videos other than the standard documentary or journalist footage more associated with TV news stories. Videographers  in many cases began to morph into cinematographers. Shooting styles changed. Editing styles changed and editing moved into story telling and other cinema styled editing using pacing and music and various other sound elements. The wedding short film was born. While you still can get the long form journalistic 2 hour wedding video something much more engaging and emotionally charged was now being shot and produced.
Monkeybrush Films produces this newer style and quality "wedding video". It is called cinematic wedding video or more aptly; wedding film.